mugnaini model 140
Perfect for catering, our mobile open-hearth ovens are durable, reliable, versatile, and road tested with restaurant level performance. Our 6" shock absorbing thermal mass dampens road shock. Shipped across North America, Mugnaini ovens have traveled countless miles for over a decade to satisfy the most demanding appetites. Commercial 140 model oven with 54" round deck…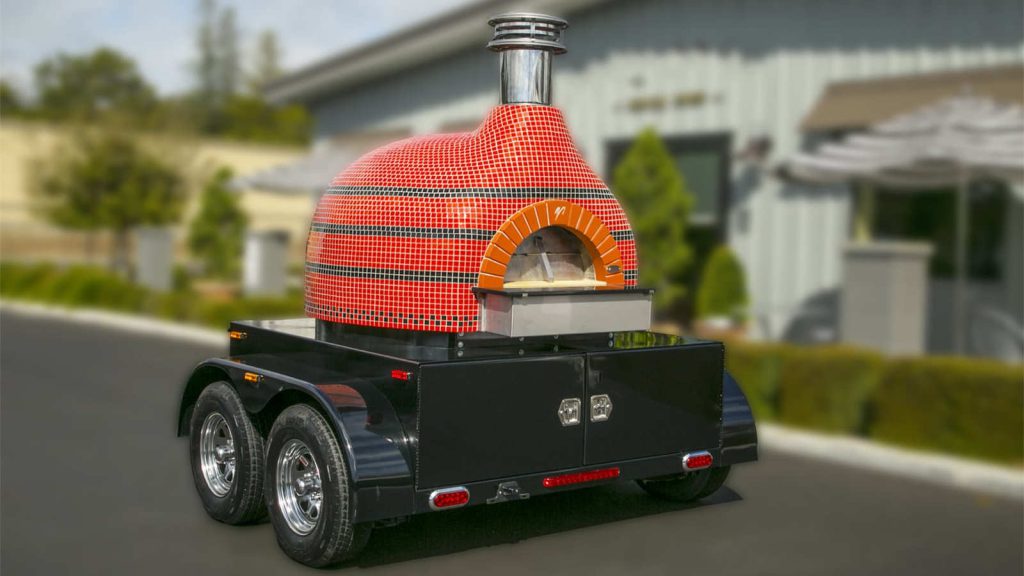 description
Perfect for catering, our mobile open-hearth ovens are durable, reliable, versatile, and road tested with restaurant level performance. Our 6" shock absorbing thermal mass dampens road shock. Shipped across North America, Mugnaini ovens have traveled countless miles for over a decade to satisfy the most demanding appetites.
Commercial 140 model oven with 54" round deck
Oven is mounted to trailer and may be detached from trailer if necessary
Fast start up with excellent heat retention
Removable chimney stack and cap included
Removable locking oven door included
Four storage compartments
Double swing-out doors in rear and front
Polished stainless steel T-handles on doors
Tandem 3,500 lbs. axels
Electronic brake system
Screw jacks in front/stabilizer jacks in rear
Receiver tube in rear of trailer for directional parking
1' wide x 84" long teardrop steel fenders
Aluminum diamond plate 9" x 36" in center of fenders
15" chrome mod rims/load rated trailer tires, 1760 lbs. each
Adjustable 2-5/16" – 10,000 lbs. coupler with safety chain snap hooks
Auto grade paint (color – customer's choice)
Rubber mounted seal beam lights
3/4″ Plywood floor – epoxy coated (interior)
Certified weight certificate for DMV
oven options
oven dome explained
The Fire Within oven dome is composed of multiple layers. Each layer plays a significant part in addressing each need previously covered. Our goal is to provide you with an oven dome that is durable, fully insulated yet light. It's assembled with enough insulation so you never feel that raging 1000-degree internal temp on the outside (or underneath) the oven. Our oven domes are made with fiber-reinforced, commercial-grade refractory material which increases structural strength. Unlike clay or brick ovens, our mobile pizza oven domes can withstand the rigors of life on the road.
Our interlocking dome design provides industry leading heat retention, as opposed to traditional brick ovens or "butt-joint" designs, which break apart over time and allow heat loss. Our ceramic fiber insulation provides better insulation (2 to 1 over proprietary refractory blend layer ) allowing you to save space, weight, and retain heat longer than traditional concrete mixed hearths.
The oven opening is small – not quite 18 inches wide and 12 inches high – to keep thermal capacity high inside the oven. This precise oven architecture (engineered dimension) provides enough oxygen circulation inside to maintain temps, while preventing heat from escaping.
Fire Within 44 and 48-inch diameter wood-fired oven shells are 3-inches thick; the 40-inch diameter oven is 2-inches thick. The ingredients and thickness create a thermal capacity unlike any oven you'll find in the category. The 8,230 psi materials used in the oven walls are durable enough to provide many years of 24/7 use. Forno Bravo are used exclusively for our mobile ovens for several reasons. For great quality control Forno Bravo controls every step of the process in-house, from chemistry to craftsmanship. Forno Bravo retains the perfect dome to floor ratios, while making the vibratory-cast refractory domes crack-resistant, thermally-stable, and consistently high performers. We use a generous amount (above industry standards) of industrial-grade ceramic insulation above and below each oven. These ovens are truly state of the art.
The 2.5-inch firebrick floor tiles are made out of very hard, durable, substance called Cordierite. These tiles are kiln-fired at 2650 and 2700 psi for superior thermal shock resistance and lasting durability.
The ceramic blankets covering the top of the Fire Within oven and the ceramic boards lining the tray under the oven floor offer lightweight, unmatched, insulation.
The refractory layers under and over the ceramic insulation are lightweight. They give the dome a solid form for a professional masonry finish and weatherproofing, while supporting the ceramic boards and blankets with added insulation.
specification
dimensions
trailer
weight
tow vehicle

note: it is advisable to confirm your vehicle towing capacity with your automotive dealer.
trailer construction explained
Since 2006, Fire Within has been creating the world's safest, most durable, best designed and engineered mobile wood-fired oven. We started the category, Really!. For us, the fire is the origin. You should be able to start a fire and cook mouth-watering food wherever you want. With this in mind, we believe (and hope you do, too), the wood-fired oven experience should not be compromised – even when it's mobile. On the contrary, it is often enhanced.
There are universal needs in a wood-fired oven, especially if it is mobile. Our 17 years of extensive research, feedback (from our 1,800+ oven owners from all 50 states and overseas), exhaustive engineering and countless prototypes, have led to a foundation of standards we start every trailer-oven project with:
Safety:
Above all else, your oven trailer will be safe; Fire Within starts with the highest certified and UL Listed, Intertek and NSF certified oven shell in the category. A precise refractory blend and thickness of insulation components insures 1000-degree fire raging inside the cavity of the oven. However, your finger tips senses only the room temperature on the outside dome of the oven.
Fire Within trailers are made with safety in mind, front and center. Our trailers are made for smooth tow-ability, reliability and a safety at the forefront. We put engineering and ingenuity into each and every one of our trailer models. The placement of the oven on all the trailers is specifically engineered for proper positioning (weight balance) on the trailer for both, safety and a smooth ride. Our trailers are all steel construction with Dexter torsion control axles for a smoother ride. The torflex axles provide improved suspension characteristics relative to leaf spring axles, this becomes increasingly important at highway speeds and the inevitable encounter with pot holes strewn throughout our communities. These features provide for smooth, reliable and safe towing experience of your oven and investment.
The manufacturer of the Fire Within trailer is contracted through the Department of Defense for its utmost quality and reliability. Our proprietary securing system and engineered placement transforms a separate trailer (or stand) and oven into one unified product designed just the way you want. We've put millions of miles on our 1,800+ trailers over the last 17 years and still continue to cook pizzas. Be assured, you will be and feel, safe with Fire Within.
Mobility:
Our business is placing a 3000+ pound mass of ceramic insulation and refractory on wheels and letting it roll down the highway at 65 mph as much as you want. Cement and the highway aren't naturally meant for each other. We defied that assertion. Our precise blend of components over and under the oven creates ultimate mobility for your oven.
Durability:
As your oven trailer continually rolls down the highway, it's sole purpose is to bring the fire anywhere, it will be exposed to the elements. Fire Within has created an oven that is protected by the highest quality, weatherproofed components in the category. Does that mean it is maintenance-free? Of course not. But love your oven dome and maintain it, it will love you back for many years to come.
Beauty:
Every oven dome is a work of art for Fire Within. We customize each oven to meet the owners brand and vision. Your oven should look and feel like you. We create your story directly on your dome using stucco, brick, metal, or tile as the narrator. True craftsmanship is in straight, clean, complete edges and surfaces.
Other Features:
Our trailers include PPG paints for great color and adhesion, Petersen LED lights for a lower amperage on the tow vehicle, and forward self adjusting brakes (Caterer, Concessionaire and Cucina models). Due to lower weights of our Alexis Soyer trailer (1200 lbs.) and our Tailgate trailer (2900 lbs.) brake controllers are not required.
Fire Within challenges you to find better wood-fired oven masonry than what our team provides. That's a stiff challenge. Designed and Engineered from the Frame up – Fire Within manufactures the best, most rugged and dependable trailers available.
cook pizzas in 90 seconds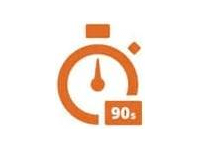 60-70 pizzas per hour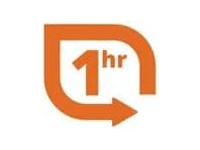 45-60 minute heat up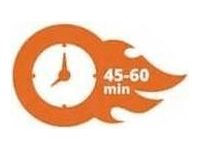 licensing & safety
Fire Within takes pride in going above and beyond to ensure our equipment is safe and meets all sanitary requirements.
fire within brochure
fire within pizza trailers - FREE 100 page catalog