rolling in the dough | business plan
A mobile wood-fired pizza oven business can be not only a great adventure, but a way to make money on your own terms. The Rolling in the Dough is the mobile pizza oven catering start-up business plan that is the standard in the category. This book eliminates the guesswork, hassles and frustrating learning curve of operating your own fun, lucrative mobile restaurant.
Composed of 13 chapters of the most up-to-date information on mobile catering, Rolling in the Dough is now in its 6th edition. The book is over 260 pages (including an index for quick references). Inside you will find the secrets to building a real business with the potential for substantial profits:
How to construct your personal business plan using provided templates and spreadsheets directly from the book (or as a separate download provided with your purchase).
Licensing and Food Safety information.
Equipment and event setup information that will produce efficiency while serving thousands of pizzas to your customers.
All you need to know about wood for your oven.
Contactless customer service.
How to market and price your products.
How to make great pizza dough. Rolling in the Dough provides countless recipes we've collected over the years. The recipes alone are worth the price of admission!
Rolling in the Dough is a comprehensive business plan written to help the mobile wood-fired oven caterer start his or her own business. It is a resource of best practices and insider information as well as a first-hand account of mistakes to avoid.
Learn proven processes that have worked for over 1,800 Fire Within oven owners. We show you what you need to concentrate on right now and what can wait so you can best focus your energy. Our manual guides you through what to do and when and how to do it, breaking down a complex business into easy-to-digest steps.
rolling in the dough - pizza business
now in it's 6th edition Rolling In The Dough is available in two formats by popular demand a physical book and also the digital version.
This business plan answered so many questions I had no idea I had. I highly recommend it for anyone who is really interested in getting into the business. I can see myself referring to the book over and over again.
Amy H
When I sat down with the SBA and the health department I had everything they wanted.
Joe D
I have really, Wow, what a manual – it's just what I needed – it's what I needed to show my wife – This business can happen – it can be real.
John B

rolling in the dough, the Brick Pizza Oven Catering Manual Includes
Equipment:
Our world-class mobile wood-fired ovens have dramatically changed the business of selling concessions and catering. We manufacture a practical piece of equipment that is efficient, lightweight, and stable to create the safest mobile oven on the market today. We did not invent an oven on wheels– we perfected it.
Business 101:
Discover the essential strategies every business owner must know in order to succeed. We start with the fundamentals of owning your own business based on the deep wisdom and know-how that only comes with real-life experience.
Licensing and Food Safety:
Learn how to obtain a license from the Department of Health and the steps to get a food license. We also offer advice on preparing necessary legal files with expert confidence.
Once you get a complete overview of our real-world business strategies, you'll be able to easily avoid some of the common business pitfalls. Most importantly, this information will keep you focused on the path of success. We've included a proven business plan that takes the guesswork out of getting the right business permits, managing supply chains, advertising and much more.
It's as comprehensive as a franchise model, only without the restrictive rules so you are in complete control of your business.
Wood-Fired Ovens
Intro to wood-fired ovens.
The Easiest ways to start a fire.
How many pizzas to cook at once.
Number of pizzas made in one hour.
The best firewood to use for delicious pizza.
We cover these topics and insider tips on how to tell that the oven has reached the right temperature, the three kinds of primary heat sources, and we debunk the 900-degree myth.
Making Great Pizza
Pizza dough recipes
We've got some of the best on the planet.
Sauce recipes
You'll want to stay in the kitchen to try them all.
Spices
Learn how to season your pizza to make it the best.
We'll answer these questions
How do we transport and handle pizza dough?
What types of pizzas sell best?
What are the advantages of selling personal pizzas versus large pizza pies?
And divulge secret dessert pizza recipes
Festivals, Farmers' Markets and Private Catering
These chapters are one of the crown jewels of this manual because it will help you get an edge on the concession business right away. Learn how to find profitable events in your neighborhood, county or state. Save time and money, and benefit from our years of experience in the business—experience you can't tap into anywhere else.
We'll teach you how to apply to participate in these events and how much food you'll need for each different type of function depending on the time of day or season. We give you an outline of the ideal booth set up to create an easy workflow, which can save you staffing costs. Private catering pricing recommendations are also included.
In the appendix you'll find the safest way to tow a trailer, sample festival and farmers' market applications and more.
6th edition digital ebook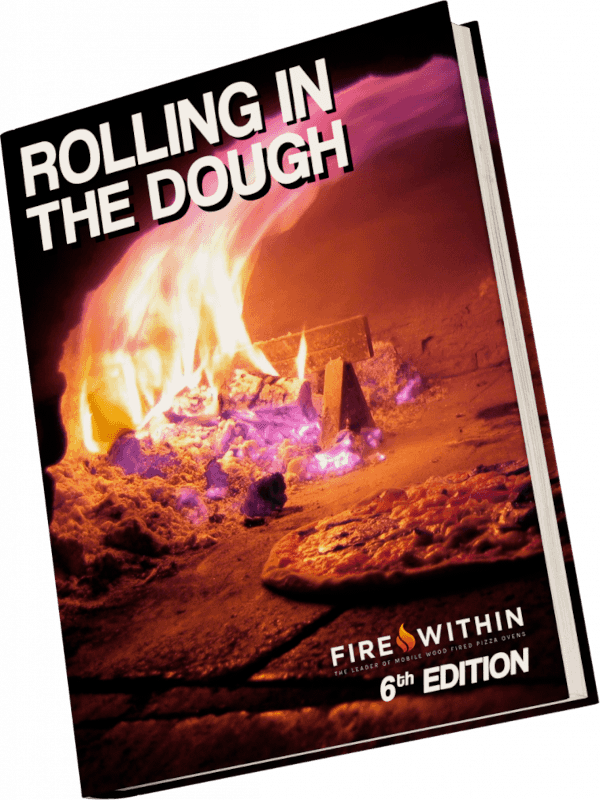 rolling in the dough
buy now
5th edition actual book
rolling in the dough
buy now
The complete and comprehensive business manual, Rolling In The Dough, covers the logistics of working with a mobile wood-fired oven and gives you the foundation to making dough in your OWN way.
Our business manual eliminates the guesswork, hassles, and frustrating learning curve of operating your own fun, lucrative rolling restaurant. Inside you'll find the proven, no-nonsense advice on starting a thriving concession business. Plus, we'll reveal the creative marketing ideas that will help you realize the potential of the portable pizza business.
It is a resource of best practices and insider information – as well as a first-hand account of mistakes to avoid. Learn proven processes that work, and pitfalls to watch out for.
Our business manual breaks down a complex business into easy-to-digest steps. Over 260 pages, Rolling in the Dough takes you from the planning stages straight to baking delicious, quality food at a hearty profit margin.